Presentation of the demonstrator building "livMatS Biomimetics Shell @ FIT" digitize wood network meeting – Lecture event with site visit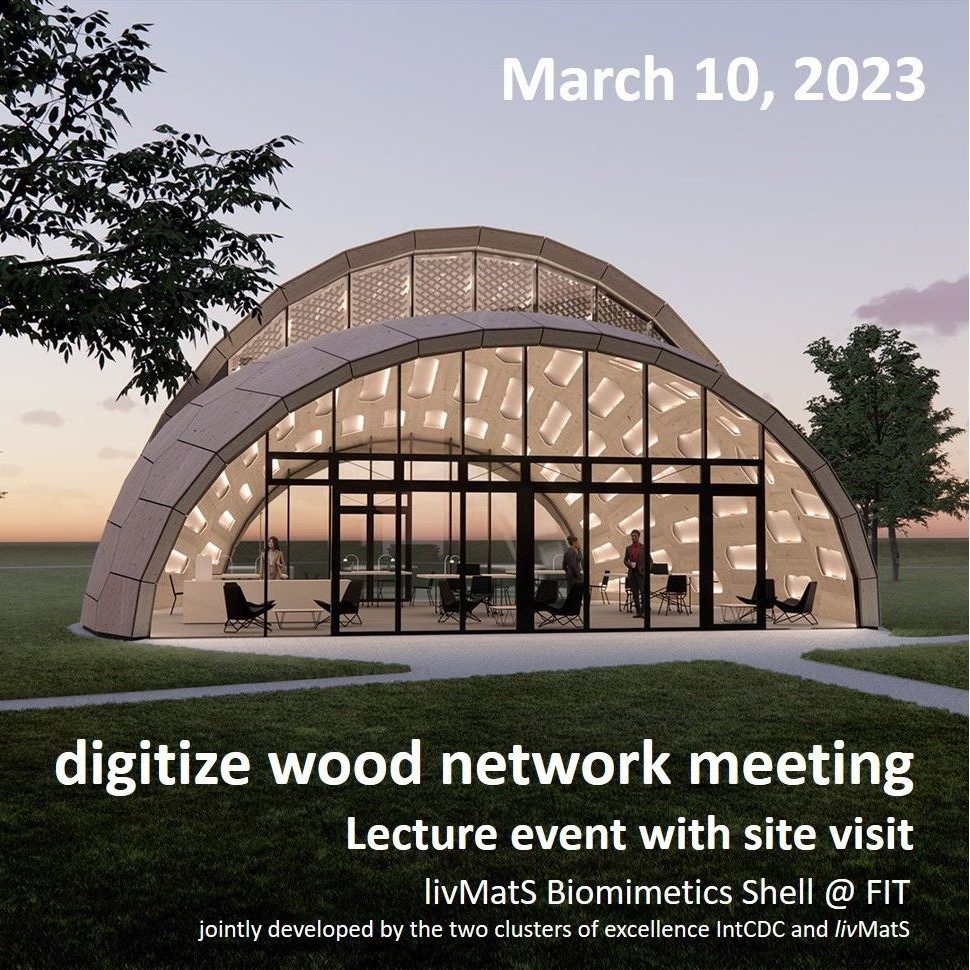 In the seventh digitize wood network meeting we present the new research building "livMatS Biomimetics Shell @ FIT", which was jointly developed by the two clusters of excellence IntCDC and livMatS. The segmented wooden structure made of hollow cassettes is applied for the first time in a closed building and demonstrates the robotic assembly of a biomimetic shell in wooden construction. The building will soon open on the grounds of the University of Freiburg. At this event, you will gain insights into the research and project management of this extraordinary building in three presentations and experience it live during a tour of the building.
Program
12:00
Welcome | DE
Thomas Speck, Cluster of Excellence Living, Adaptive and Energy-autonomous Materials
Systems (livMatS)
12:15
Segmented Timber Shell Research at the Cluster of Excellence IntCDC | DE
Moritz Mahlke, Platform digitize wood
12:30
Integrative Design and Construction of an Interdisciplinary Research Project | DE
Monika Göbel, Institute for Computational Design and Construction (ICD), Cluster of
Excellence IntCDC
13:00
Semi-automated Assembly of Timber Buildings with Large-scale Manipulators | DE
Anja Lauer, Institute for System Dynamics (ISYS), Cluster of Excellence IntCDC
13:30
Solar Gate: Bioinspired and Biobased 4D-Printing for Zero Energy Smart Shading | EN
Tiffany Cheng, Institute for Computational Design and Construction (ICD), Cluster of
Excellence IntCDC
14:00
Site Visit, Discussion and Conclusion | DE/EN
14:30
End of Event
Information and registration
Admission: free of charge
Registration: required https://www.eventbrite.de/e/digitize-wood-netzwerktreffen-vorstellung-livmats-biomimetics-shell-fit-tickets-541170915777?lang=de-de&locale=de_DE&status=30&view=listingdigitize wood Netzwerktreffen – Vorstellung livMatS Biomimetics Shell @ FIT Tickets, Fr, 10.03.2023 um 12:00 Uhr | Eventbrite
Language: German / English
Please note: We will record and publish the event in sound and image for documentation,
reporting and evaluation purposes, including on websites and social media. With your
registration you agree to this use.
The event is available for review by the Baden-Württemberg Chamber of Architects for
recognition for continuing education and training.
Contact
Julia Mederus, julia.mederus@intcdc.uni-stuttgart.de