IntCDC Constructive Conversations / Immanuel Koh
September 19 | 4:00 pm

-

5:30 pm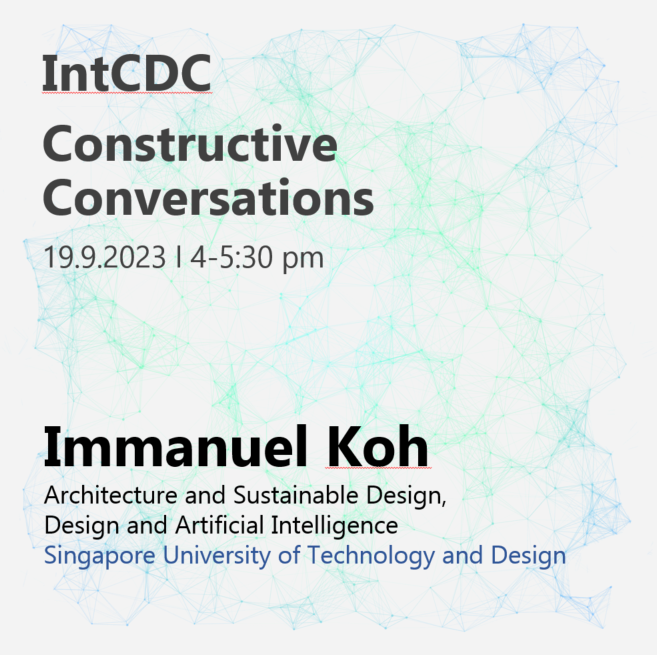 IntCDC is very honored to welcome Immanuel Koh – Assistant Professor in Architecture & Sustainable Design (ASD) and Design & Artificial Intelligence (DAI) at the Singapore University of Technology & Design (SUTD) as part of the IntCDC Constructive Conversations series. The event will take place on Tuesday, September 19, 2023 from 4:00-5:30 p.m. and is open to all AdvanceAEC Partners as a Partner Seminar.
Title:
Neural Artefacts – Formal & Material Aesthetics of 3D AI-Generated Content (AIGC)
Speaker:
Immanuel Koh, Assistant Professors in the Architecture and Sustainable Design, Design and Artificial Intelligence; Singapore University of Technology and Design
Date:
September 19, 2023 | 4:00 – 5:30 p.m.
Lecture Abstract
The lecture deconstructs the concluding diagram of Robin Evans' "Projective Cast: Architecture and its Three Geometries" (1995) through the lens of today's text-to-3D diffusion models, effectively adding 'neural' fields to his ten fields of projection. It argues for a shift in the ways in which architecture might now be representatively sampled, numerically encoded, implicitly modelled, generatively produced, and aesthetically augmented. Unlike the already ubiquitous adoption of text-to-image models in architecture, the potential of 3D generative deep learning models such as 3D Diffusion models and 3D-GANs has remained relatively untapped despite its much more intrinsic formal, spatial and material formulation. A series of projects done at Artificial-Architecture will be presented to illuminate the subject matter.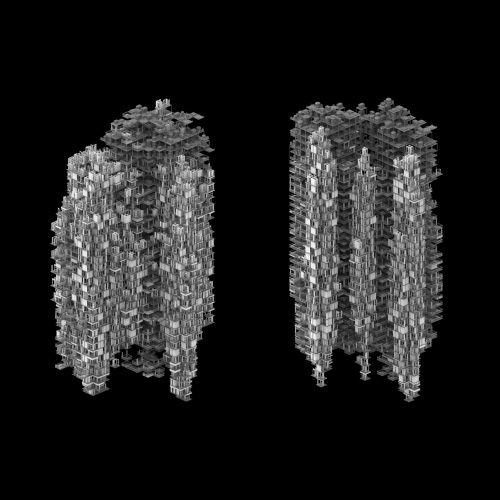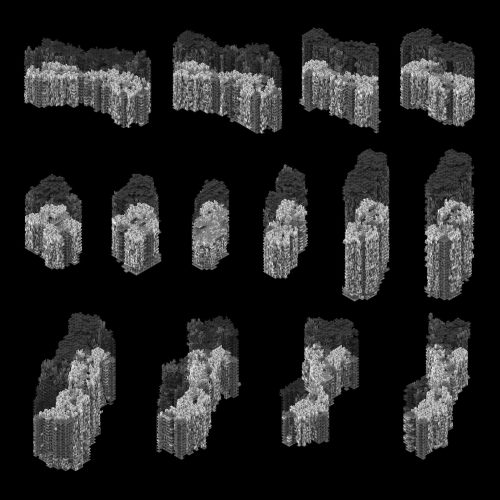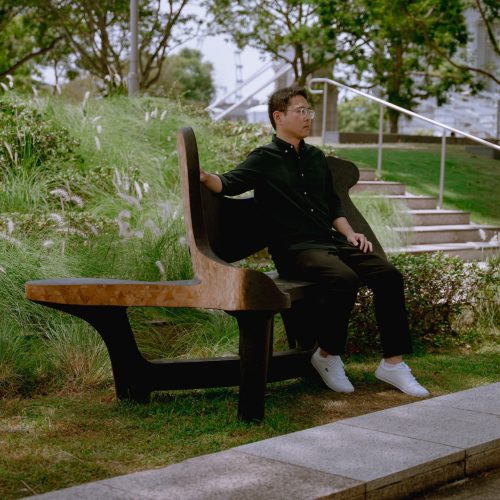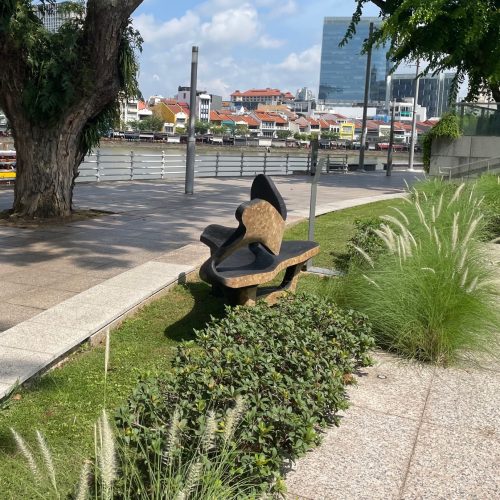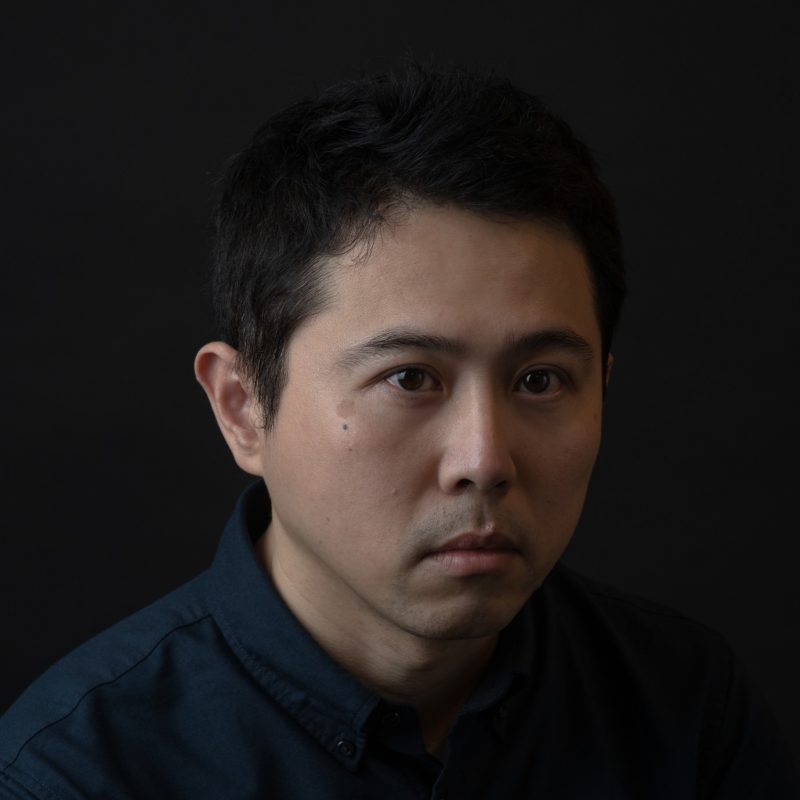 Immanuel Koh
Immanuel Koh is the Hokkien Foundation Career Chair Professor and Assistant Professor in Architecture & Sustainable Design (ASD) and Design & Artificial Intelligence (DAI) at the Singapore University of Technology & Design (SUTD). Trained at the Architectural Association (AA) and Zaha Hadid Architects in London, he obtained his PhD from the School of Computer Sciences and Institute of Architecture at the École polytechnique fédérale de Lausanne (EPFL). His various nominations include Lopez-Loreta Prize and SAIL Award (Superior AI Leader Award). He is an expert consultant at the ZJU-BOSIDENG Joint Research Centre on AI Design and his AI research projects have been supported by DesignSingapore Council, AI Singapore, Urban Redevelopment Authority, Ministry of Defence, DSO National Laboratories, National Arts Council, and National Supercomputing Centre Singapore. He has conducted research with international collaborators such as MIT CSAIL, ARUP, ZHA, and Autodesk. Immanuel has exhibited at NeurIPS' AI & Art Gallery, Venice Architecture Biennale, Victoria & Albert Museum, and Singapore's Arts House; published in Architectural Intelligence, AD, ICCV, AAAI, DCC, CAAD Futures, SIGraDi, eCAADe, FMA, IAEA, AMPS, and Transformations; and taught at the AA, Royal College of Art, Harvard GSD, UCL Bartlett, Strelka, Die Angewandte, and many others. He is the conference chair for CAADRIA 2024, co-founder of Neural Architecture Group, and co-curator of AIArchitects.org. Immanuel now directs Artificial-Architecture and DesignerlyAI at SUTD. He is the author of the book 'Artificial & Architectural Intelligence in Design' published in 2020.
AdvanceAEC  – Join this and further AdvanceAEC Partner Seminars and receive an AdvanceAEC certificate!
In 2023 eight partner seminars will take place. Partner seminars are focused on cross-sectional and interdisciplinary topics and are open to all network partners. If you attend at least six of the eight seminars, you will receive a certificate of time attended. You must register for this at the beginning of each event. The procedure for this will be briefly explained before each seminar.
The event will take place both in person and digitally:
The access data for this event is available to AdvanceAEC members. All researchers working in the field of AdvanceAEC are warmly invited to join the network. Please register or log-in to your account to access the event credentials.

We are looking forward to welcoming you.
The IntCDC Management Team