Launch Event »aaec research network«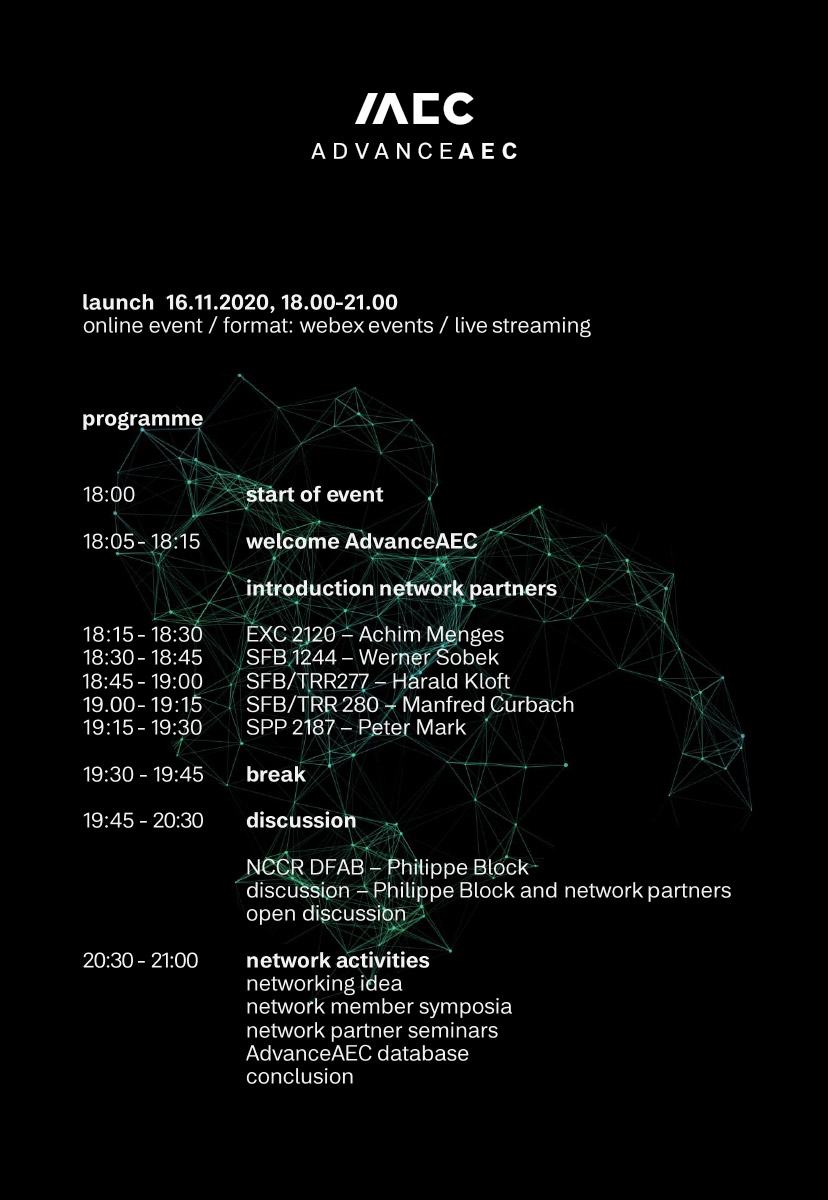 Download Programme PDF file (size: 380 kB): Download
Speakers information
EXC 2120 – Achim Menges
"We are extremely excited to launch the network AdvanceAEC. We hope to build an interdisciplinary and inclusive community of researchers who are dedicated to advancing architecture, engineering and construction in order to address the multifaceted challenges the built environment is facing."
Link
SFB1244 – Werner Sobek
"AdvanceAEC is a great networking opportunity for our activities, from which important further insights will arise."
SFB/TRR 277 – Harald Kloft
"The interdisciplinary research network AdvanceAEC opens up a great opportunity to fundamentally rethink design, engineering and manufacturing in the building industry and to enable future-oriented architecture through digitally controlled planning and manufacturing processes.  By raising the visibility beyond the individual research network, the influence to make the transformation of the construction industry into the digital age resource-efficient and climate-friendly is increasing."
SFB/TRR 280 – Manfred Curbach
"Some of the great global issue, such as resource consumption, climate change and population growth, can only be solved by concentrating all available forces. Since the construction industry makes a substantial contribution to the first two topics, the cooperation of the large research networks involved is a necessary step for our future."
SPP 2187 – Peter Mark
"For the first time, five collaborative research centres link together to one network.
The network will promote interdisziplinary education and bring up new perspectives of automatisation, digitalisation and efficiency in civil engineering."
nccr dfab – Phillipe Block
»The building and construction industry will be facing tremendous challenges in the next decades: population growth, rapid urbanisation and the environmental crisis. The AdvanceAEC network responds to this urgency / emergency through digital technologies, interdisciplinarity and innovation through research.«
Innovative research network »AdvanceAEC« established in the research areas architecture, engineering and construction
· AdvanceAEC launch event
· 16.11.2020 . 6.00 – 9.00 pm
· Registration for the event is done automatically by registering in the AdvanceAEC database
Five DFG-funded research centers join forces to harness international research synergies and to foster the development of early career researchers.
The »Research Network for Advancing Architecture, Engineering and Construction« (AdvanceAEC) brings together international researchers who strive to advance architecture, engineering and construction through digital technologies and an interdisciplinary approach. It aims to address the multifaceted ecological, economic and socio-cultural challenges the built environment is facing. The research network provides a platform to exchange expertise, foster and build an international research community in the fields of architecture, civil engineering, mechanical engineering, computer science, robotics and social sciences.
With particular emphasis on the topics:
Architecture, Engineering and Construction
Interdisciplinary Research
Co-Design and seamless Digital Technologies
Resource efficient and future-proof construction
Productivity and automation
Foundation and research network partners are five independently evaluated, publicly funded research networks:
The main objective of the network is to foster an intensive exchange on the level of the participating research centers and the individual researchers. The common website www.advanceaec.net serves as collaborative platform.
Joint activities such as colloquia, symposia and other events nurture the collaboration of the research centers. A vital role for networking is taken by the members' data base which additionally facilitates direct exchange and scientific collaboration of the individual researchers.
Researchers can join AdvanceAEC by registering on the website. Free of charge registration for the members data base is possible as of 1 November 2020.
The kickoff of the innovative research network AdvanceAEC will take place online on 16 November 2020 from 6:00 to 9:00 pm and is open to all registered members. Research associations will be presented by their respective Director. As special guest of honor Prof. Dr. Philippe Block of the Federal Institute of Technology Zurich, Director of the National Centre of Competence in Research (NCCR) Digital Fabrication, will lead the following discussion.
Information on future activities and events is available on the website advanceaec.net.
Specialist contact:
Prof. Achim Menges, Director EXC 2120 IntCDC, University of Stuttgart
Tel.: +49 (0) 711  685-827 86
achim.menges@icd.uni-stuttgart.de
o. Prof. Dr.-Ing. Dr.-Ing. E.h. Dr. h.c. Werner Sobek, Director SFB 1244, University of Stuttgart
Tel.: +49 (0) 711  685-662 26
werner.sobek@ilek.uni-stuttgart.de
Prof. Dr.-Ing. Harald Kloft, Director SFB/TRR 277, TU Braunschweig/ TU Munich
Tel: +49 (531) 391-3571
h.kloft@tu-braunschweig.de
Prof. Dr.-Ing. habil. Peter Mark, Director SPP 2187, Ruhr University Bochum
Tel: 0234 32 22700 / 25980
peter.mark@rub.de
Prof. Dr.-Ing. Dr.-Ing. E.h. Manfred Curbach, Director SFB/TRR 280, TU Dresden
Tel: +49 351 463-37660
manfred.curbach@tu-dresden.de
Media contact:
Christa Knoll, EXC 2120 IntCDC, University of Stuttgart
christa.knoll@intcdc.uni-stuttgart.de 
Coordination:
Michaela Mey, EXC 2120 IntCDC, University of Stuttgart
michaela.mey@intcdc.uni-stuttgart.de
Summary of research networks partners: